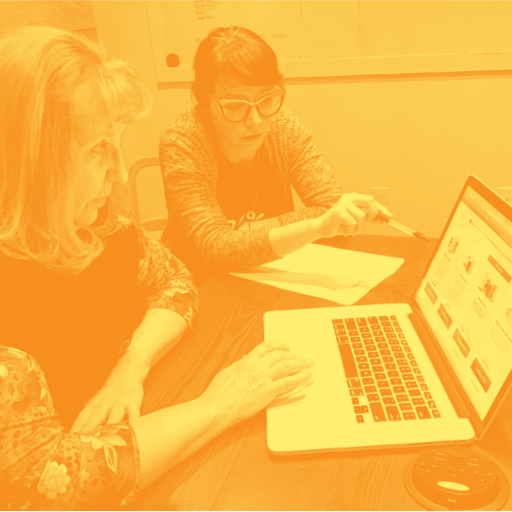 Method
We don't guess around with your business.
Starting any creative project is a leap of faith. As a client, you're agreeing to go on a journey with us and commit resources to work you can't see yet. As professionals, we want to deliver amazing work for our clients, no matter what. But, in this business, we don't have time to go sit by ourselves and wait for divine inspiration to strike - our success depends on our ability to develop creative solutions consistently. So, we invented a process to help us bring our creative A-game every time. We call it the Team Workshop Method.
The Team Workshop Method
The Team Workshop Method gives us a framework for working together to get to know you, your organization, your objectives and your customers. We value collaboration, because it doesn't matter where good ideas come from, just that we uncover them. We generate tons of ideas to test and iterate upon, because the more things you try, the more likely you are to get it right. When we deliver our work, you can trust we aren't crossing our fingers and hoping your boss or your customers will like it, we're giving you data-backed recommendations from a process that gets results.
Our method is built on six fundamental principles:
Listen more than you talk.
In order to do our best work, we need to fully understand you, your business, your customers, your likes and dislikes, your KPIs and your goals for the project. That means listening carefully, doing discovery work, and asking a ton of follow up questions to make sure we're all on the same page.
Embrace constraints.
Science (both actual science and our own observation) has proven that placing arbitrary constraints on creative tasks forces us to be more imaginative. So, when we need to generate ideas, we set some ground rules — think: "you have to spend four minutes sketching a mobile homepage" or "design how this sales flow would work if only return customers could use it."
Generate a ton of options.
By generating as many options as quickly possible, without ruling things out until we absolutely have to. This helps us make sure that we've explored every viable direction that our work could take, and that all ideas are considered equally.
Don't get attached.
Sometimes, it's hard to let go of — or hell, even recognize — bad ideas when they're your bad ideas. And, when you generating a ton of ideas, there are bound to be some bad ones. We believe that it's important to get all of the ideas out so we can consider them objectively. Because it's not about feelings - it's about finding the best solution to the problem at hand.
Everyone participates.
Great work starts with great collaborations between smart people. We believe in including everyone who's working on the project — from your our team and yours — during the creative process, because good ideas can come from anyone.
It should be fun.
When you get the right people in a room, working together to solve a problem, it's magic. It's also fun. A process that's relaxed, open and fun will lead to better collaboration between our teams and ultimately, better work.
Exercises
We've designed a series of collaborative exercises that help us put in the work to engage you and learn everything we need to know to do excellent work.
Design Tinder
We'll show you designs on opposite ends of a spectrum (think dark vs. light or high tech vs. analog) and ask you to go with your gut and quickly choose the one that fits your brand best. At the end, we'll walk away with a composite of what you're looking for from your design.
Moodboards
We use mood boards to help define your brand's visual direction and match our design vocabulary to yours (so we know exactly what you mean when you say "clean" or "modern").
Voice and Tone Workshop
Our voice and tone workshops help us establish your brand's verbal personality by asking you to think about your brand as a human being.
Architecture Workshops
We'll work with you to establish your site's navigation and content structure though card sorting, whiteboarding, core modeling and more.
Four-by-Fours
By dividing a sheet of paper into quarters and asking everyone tackle one focused problem, four ways, for four minutes each, we can create a ton of options in almost no time. For example, a team of five designers can generate 300 ideas in a week with only 48 minutes of intense work per day.
Design Sprints
We ask designers to spend a specific amount of time working towards a goal. During a sprint, we generate options, pick the best ones, test them, and keep iterating until we get it right.
Taxonomy Workshops
Taxonomy workshops help us understand how your pieces of content relate to each other, and give us the information we need to structure your site so that users can find the information that's most meaningful to them.
Ethnographic Research
We'll embed ourselves with your users and your internal stakeholders to get a complete understanding of how people interact with your brand, what they need from it, and how they feel about it.
Experience and Journey Mapping
In order to understand your users' full journey with your product or brand, we'll start at the beginning and map every step, then look for opportunities to smooth the path.