Projects
FedExForum.com
FedExForum is an 18,000 seat arena that's home to the Memphis Grizzlies, the University of Memphis Tigers and a slew of concerts and events.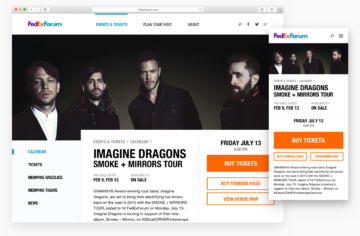 While seeing a basketball game at the Forum was a great experience, using their website was difficult. It was outdated, not mobile-friendly and made it hard to learn about upcoming events and buy tickets.
They needed a site that made it easy for people to discover events they'd like and get detailed information about specific events. And, the site needed to help people know where to park, what the building's amenities are, and what to expect when they arrived.
We put FedExForum's events at the center of our redesign, featuring upcoming events on the homepage with large, vibrant images. We added powerful filtering options to help people find events they'd love, and designed prominent buttons to make it easy to buy tickets on devices of all sizes.
Traffic skyrocketed on mobile and desktop after launch, proving that a large venue's website can become a destination in and of itself. Now, a few years after the redesign, users are more likely to use FedExForum.com than TicketMaster to find out about upcoming events.
Client

FedExForum
Project Type
It was a great experience working with you. You came in with a lot of really good ideas that helped us better execute our vision for what we wanted to see on FedExForum.com.

Leslie Torrell

Sr. Director of Digital Marketing, Memphis Grizzlies and FedExForum