Projects
StashHome.com
Stash's customers have great taste and unique personal style. But, the brand's online presence didn't match the experience of shopping in the stores, which feature designer pieces and one-of-a-kind finds.
Stash asked us to design and develop an e-commerce site that matches the in-store experiences and showcases Stash's unique product lines, opening their doors to online sales for the first time. We also worked with them to develop a brand strategy that would create a cohesive experience across their website, social media and email campaigns.
We started by shopping.
In order to create an online shopping experience Stash customers would love, we needed to understand their needs, inspirations and shopping habits. A survey of potential and past shoppers identified their customers as young, professional women who care about style and quality.
Then, we wandered the store with 10 likely customers who were in the market for furniture. We listened to them talk about their style, their needs and their shopping habits, and captured feedback on Stash's products and aesthetic to help us accurately translate the store experience to the web.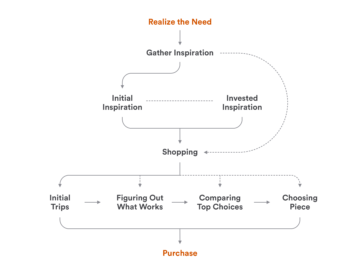 Designed to Inspire
After walking through our research, we worked with Stash's staff to define their brand personality - a cool, fun woman who's always a little ahead of the curve when it comes to fashion and design. Then, we developed voice and tone guidelines that Stash's in-house team uses to create content that's consistent, on-brand and relatable.
Stash's customers tend to start furniture shopping by gathering inspiration online. The redesigned relies heavily on lifestyle images and content that help shoppers picture Stash pieces in their homes.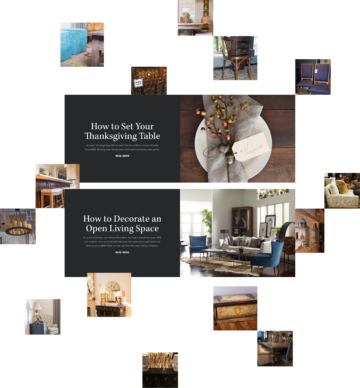 We redesigned the product pages to feel more sophisticated and modern, using large photography, clear calls to action and plenty of white space to make the products stand out.
They had an existing store inventory and POS system that required intensive discovery, coordination and management in concert with their internal technology teams. In the end, we chose to build and implement the site on on Shopify because it had the right blend of interoperability, admin UX, and ability to scale long-term.
I can't even begin to express my appreciation for the hard work that went into making this site a reality. The team fought through obstacles to get our new site up and running. It wasn't easy, but we all pulled together to accomplish our goal.

Todd Garten

President, Stash Home